Grognard.com: Wargames on the Web
---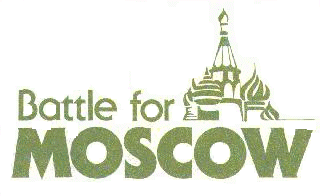 Battle for Moscow
Free introductory wargame!
Designed by Frank Chadwick
Battle for Moscow is a free game designed to introduce you to wargaming. On this page you will find:-

an introduction to wargaming

information about the wargaming hobby

how to learn to play wargames

a complete board wargame (Battle for Moscow)

details of Operation Typhoon (historical background for the Battle for Moscow game)

what happens next: continuing play in Battle For Moscow

---
IMPORTANT
The copyright and trademark for the Battle for Moscow game and associated materials are owned by Frank Chadwick. The Battle for Moscow game and associated materials are for recreational use only, and not for commercial or mass reproduction. All rights are reserved.
Many thanks are due to Frank Chadwick for his kind permission to create this page!
This page was created on July 26th, 1996, and last amended on November 11th, by:-

Alan Poulter, Lou Coatney, Doug Murphy, James B. Byrne, Edmund Hon, Eric Pass, Stephen Balbach and Steve Owen with advice from the members of the Consim-L mailing list.
---

Please report any problems with this page (bfm/index.html).