Best Birthday Cake Ever!
Paul Brown's Mystery Birthday Cake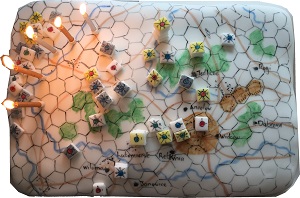 Why Doesn't My Wife Make Me a Cake Like This?
---
Thanks to Paul Brown for sharing these pics of the birthday cake his wife made for him. Amazing...
Paul suggested we do an non-mainstream Grognard Challenge to see if anyone can identify the game represented on the cake. So please send me an email (see below) if you can identify it. Any guesses?
Mrs. Brown, you have set the standard for wargamer birthday cakes. It's going to be tough on our wives, but we'll all be expecting a greater effort on our next birthday. Thank you!