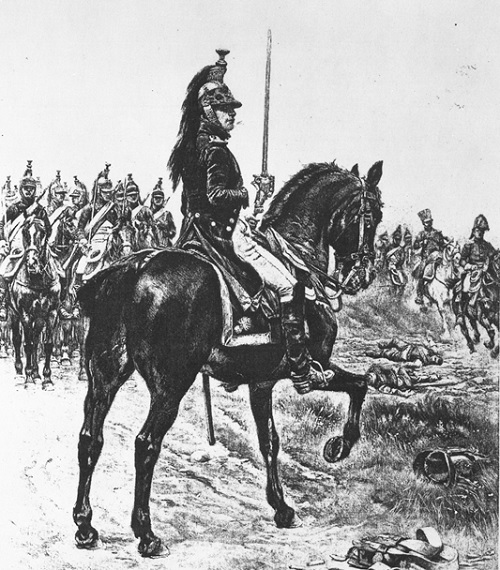 The enemy appears to wish to give battle today, so much the better, for it is the anniversary of Marengo!"
Napoleon I - June 14, 1807

Marshal Enterprises Publishes Latest La Bataille—La Bataille de Friedland 1807
Only 400 Ship October 1
Marshal Enterprises (ME) has announced that it is publishing La Bataille de Friedland 1807 with a limited 400 copy run to sell and ship on October 1, 2014.
Marshal Enterprises, which published La Bataille de Leipzig 1813 in October 2013 and designed La Bataille de Vauchamps published in ATO Magazine earlier in 2014, will release the latest in the series of the La Bataille system with a masterful recreation of one of Napoleon's most misunderstood victories.
In 1807, Napoleon had just spent the last eight months fighting both the Prussians and the Russians throughout Prussia and Poland in the toughest fighting the French had faced up until that time during Napoleon's rule. The Russians were led by General Levin August von Bennigsen, the crafty Hanoverian in Russian service, who had fought Napoleon virtually to a draw in February 1807 at Eylau; and then in June, just few days earlier prior to the climactic battle at Friedland, Bennigsen had punished the French with huge losses at Heilsberg, setting the stage for the major battle of 1807. The Russians had proven themselves to be the most stubborn foes Napoleon had faced. The battle at Friedland would only reinforce that perception.
La Bataille de Friedland 1807 includes 4 full color maps and over a 1000 counters. Along with the many organizational charts and player guides, the Premier Rules; the Special Game Rules; Orders of Battle; and many special editorial features will be on a CD for easy play and reference. The game will only be available directly through the Marshal Enterprises website, Labataille.ME, for $150.00 plus postage or shipping.
Furthermore, an additional game is included with a brand new system at no additional charge—Le Siege de Danzig 1807. Danzig, a Hanseatic city with a treasured history, was stubbornly held by Fourth Coalition forces and besieged by Marshal Lefebvre. Danzig needed to fall to secure the French rear before taking on the bulk of the Russian army. Le Siege de Danzig 1807 recreates the nearly 3 month siege with a brand new game system which requires management of limited resources by both sides.
To order both games, go to labataille.me and hit the "game purchase tab" for further instructions. There will also be a new page on Friedland and Danzig for your review.
Since its Phoenix-like rise in 2011, the ME Household has now published or designed 10 new games in less than 3 years. The Battle of Halle (aka La Bataille d 'Halle) won the Charles S. Roberts Award for best Print and Play game in 2011 and is still available on the ME website for free.
Marshal Enterprises is a creative consortium of game designers and cultural commentators who remain the surviving designers of the original La Bataille system and are dedicated to the study and celebration of the Age of Napoleon and the Age of Revolution.
For further information about this release, contact [email protected].